SUMMER LOVE
Hey everyone! I was really busy in the past few weeks but I'm trying to get to everyone's questions! In the mean time, feel free to keep on submitting or answering any questions as comments! The more interaction, the better this blog becomes :)

Just a random fyi to answer a lot of questions I've gotten: I submit my crafts mostly from my personal just to keep them more  anon, sorry loves :$
I just came upon your page and it's fantastic!!! Thank you (and everyone who submitted) for giving me something to do this summer :D
Hey! I'm helping with COB events at my chapter this year and I know every event stems from the theme; curious as to any theme ideas you might have or saw & really enjoyed? I'd love to have a little activity at each event [sort of like an ice breaker] but the theme and decor are my priority right now. Thanks :)
Themes that I really enjoyed are kind of simple and obvious, but I enjoyed them never the less. We had a "sleepover party" themed round and decorated with girly birthday party decorations and nice pillows etc and played a few sleepover-style games as ice breakers. If your COB events are allowed to be any length, you could pull out some sleepover movies! My all time favorite I've seen was a fiesta night, with little bowls of nachos, pinatas for decoration, and punch served in margarita-style glasses. It actually looked incredibly cute.

I really like themes where it plays on something that is meaningful to your sorority, like "Under the Sea" or "Diamonds are a Girls Best Friend" for dressier nights but don't feel like just because that has nothing to do with your chapter you can't use the ideas! During COB, my chapter has dressier meet & greet events near the end kind of speed-dating style where the girls can ask any last questions to the chapter officers in small groups.

For COB, we try to come up with themes that allow us to be as interactive as possible with the PNMs.

NOW: anyone who is reading this, please post your all time favorite recruitment event themes!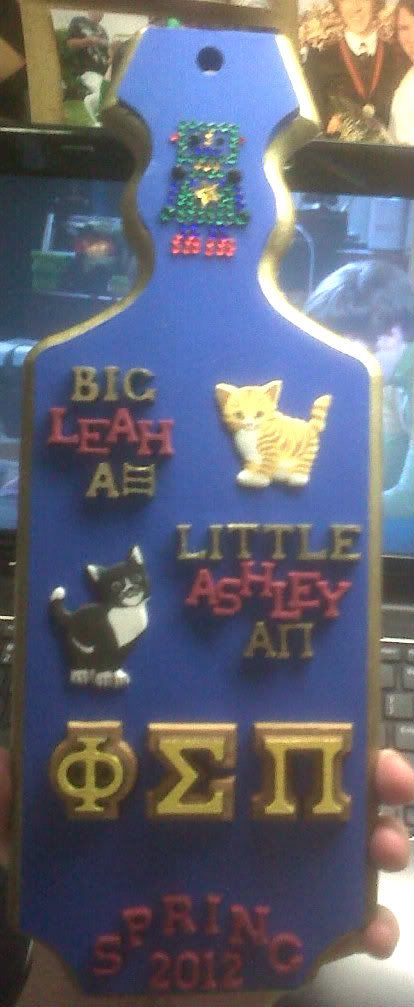 I'm in a co-ed honors fraternity (Phi Sigma Pi) and this is the paddle I made for my big. It's simple, but it's made of her favorite things.